Romain Baret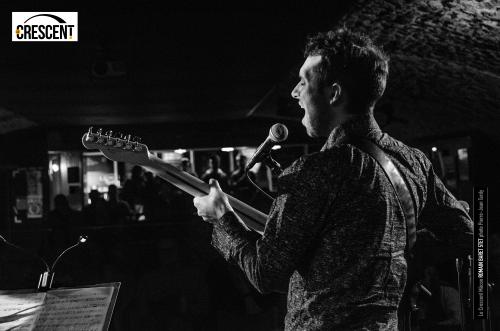 Founding member of the Collectif Pince-Oreilles, he obtained his DEM Jazz at the music Conservatory of Chambéry in 2007. In parallel to his studies he weaves his experience in the Laurent Dehors' orchestra Du Génie in the Alpages! Then Denis Badault who selected him for his Rhône-Alpin's orchestra and later with his meeting with Brad Shepik.
He creates the group Aquarium Orchestra with which he will record two albums (Aquarium Orchestra and Le ciel au dessus de чужий) and will play on beautiful jazz stages : Jazz à Vienne, Sunset-Sunside, Balélec, Jazz in Marciac ...
He is both sideman and substitute in many groups (Root'secours, Didone, Yo, Trio Enchant(i)er , Super Freak ...). He joined the 4tet of Mediterranean jazz Azzango for which he composed and recorded in Barcelona in 2011 the 1st album Mediterraneo (Nuevos Medios / Harmonia Mundi). Then follow three tours between 2012 and 2013 throughout France and Spain.
Working on his own trio with Sébastien Necca and Michel Molines since 2010 with whom he creates a dynamic of musical research. They recorded the 1st album Split Moments (Label Pince-Oreilles). He recorded with two other of his bands: the Gregory Sallet Quintet (Continuation, echoes and rhythm) and Philippe Soriano's La Grinta. He joined the Foolish Ska Jazz Orchestra, Bamelka (jazz world), W.A.T.T.S (contemporary jazz octet), and most recently the very energetic Comptes de Korsakoff and the Panoramic Project.
In 2017 three albums are released, Ephémérium from the band Bamelka, Le Mouvement Crée la Matière from the Greg Sallet 5tet and Naissance de l'Horizon from his own trio featuring Éric Prost and Florent Briqué.



www.romainbaret.com


rombaret