Olivier Jambois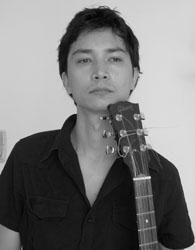 Guitarist, composer, improvisator.

Born in Lorraine, France. Begins music at 5 with clasic violin, he obtains its CFEM at 13 and DEM (grado medio) at 18. He learns guitar in parallel in autodidact, turning his musical direction to jazz and improvised music. He meets Serge Lazarevitch, Pierre-Jean Gaucher, Didier Levallet, Marc Ducret, Wayne Krantz, Evan Parker, among others. He learns composition with Dutch musician Christiaan de Jong, and obtains a degree (titol superior) in jazz and modern music in the Liceo's conservatory superior of music of Barcelona, Spain, city where he is now living. There, he was under the teaching of Jordi Bonell and Dani Perez.

As a leader he co-founds the Trio Enchant(i)er (guitar/saxos/drums), his own trio (guitar/double bass/drums), and also used to play in solo. He also belongs to various stable formations: from Jazz to free improvisation, funk (tribute to Tower of Power), clasical, rock (Mottus). With Trio Enchant(i)er he won French national award Rezzo-Jazz à Vienne and Jazz(s)RA. He has played at famous jazz festivals: Jazz à Vienne, Nancy Jazz Pulsation, D'Jazz Nevers, Jazz à Orleans, AVaulx Jazz, Sunset of Paris, Barcelona Volldamm Jazz Festival,Sunset of Girona, and more...



www.olivierjambois.com