Watchdog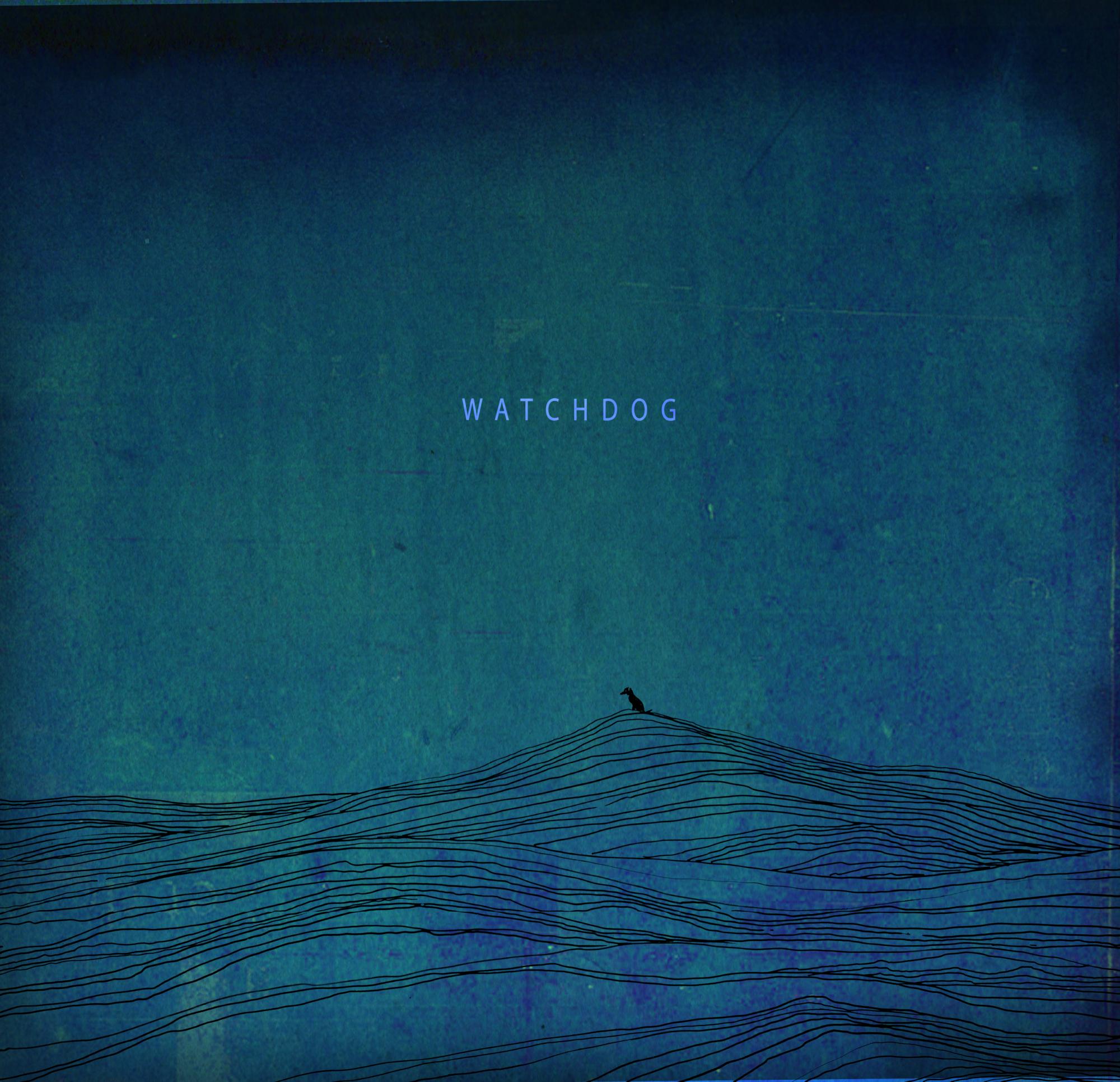 The two musicians produce a new texture of sound in the air, mixing shrill and tingling resonances with smooth acoustic vibrations.The compositions are put in space through a fascinating sound-engineer creating literaly a sound firework for the ears. A univers without concessions, filed with a rich complexity, where doors are being opened. Habits are disrupted using loops, pedal effects, minimal and noise music, dissonance and saturation, creating a unique and addictive musical environment.
Watchdog is Jazz Migration 2017 Laureate (The most important project for French emerging creative jazz musicians), as well as 1st Prize winners of the 36th National Jazz in La Défense Contest (as part of the A. Quillier 6tet). Pierre Horckmans (bass, alto and Bb clarinets, effects) and Anne Quillier (Fender Rhodes, piano, analog synthesizer, voice) joined by Adrian Bourget (sound designer) transgress the stylistic borders, play with each other, interact, take risks and overpass every limits in a constantly changing acoustic world.



New realease : Can of Worms




" This albun creates right ahead a state of dreaming, not like a boring afternoon, but the one with bubbling blood in your veines. Running emotions disorientated till they explode full of passion. Never to miss ! "
Louis-Julien Nicolaou, Les Inrockuptibles




" It is clearly one of the most beautiful disc of the end of the year"
Florent Servia, Jazz News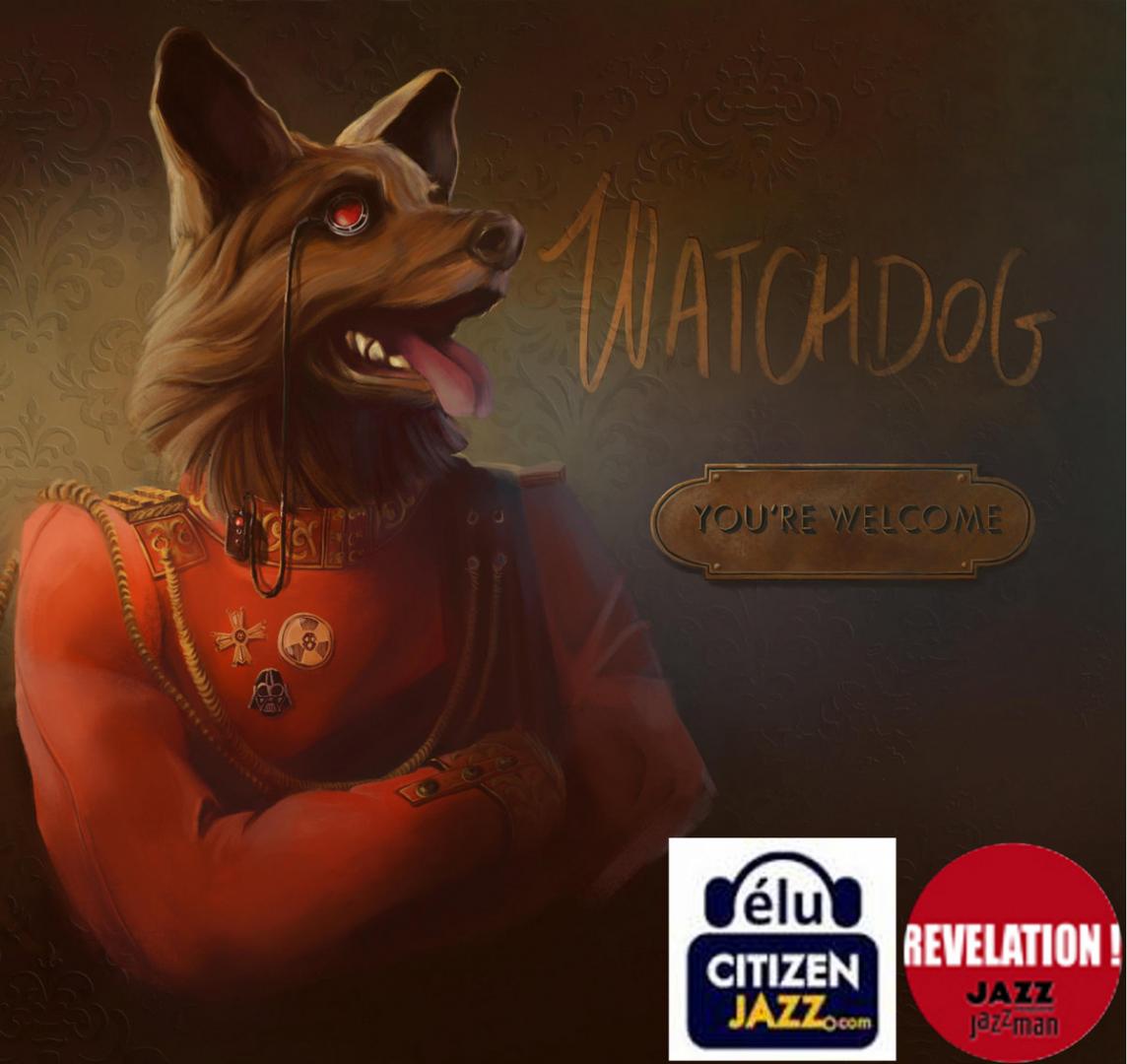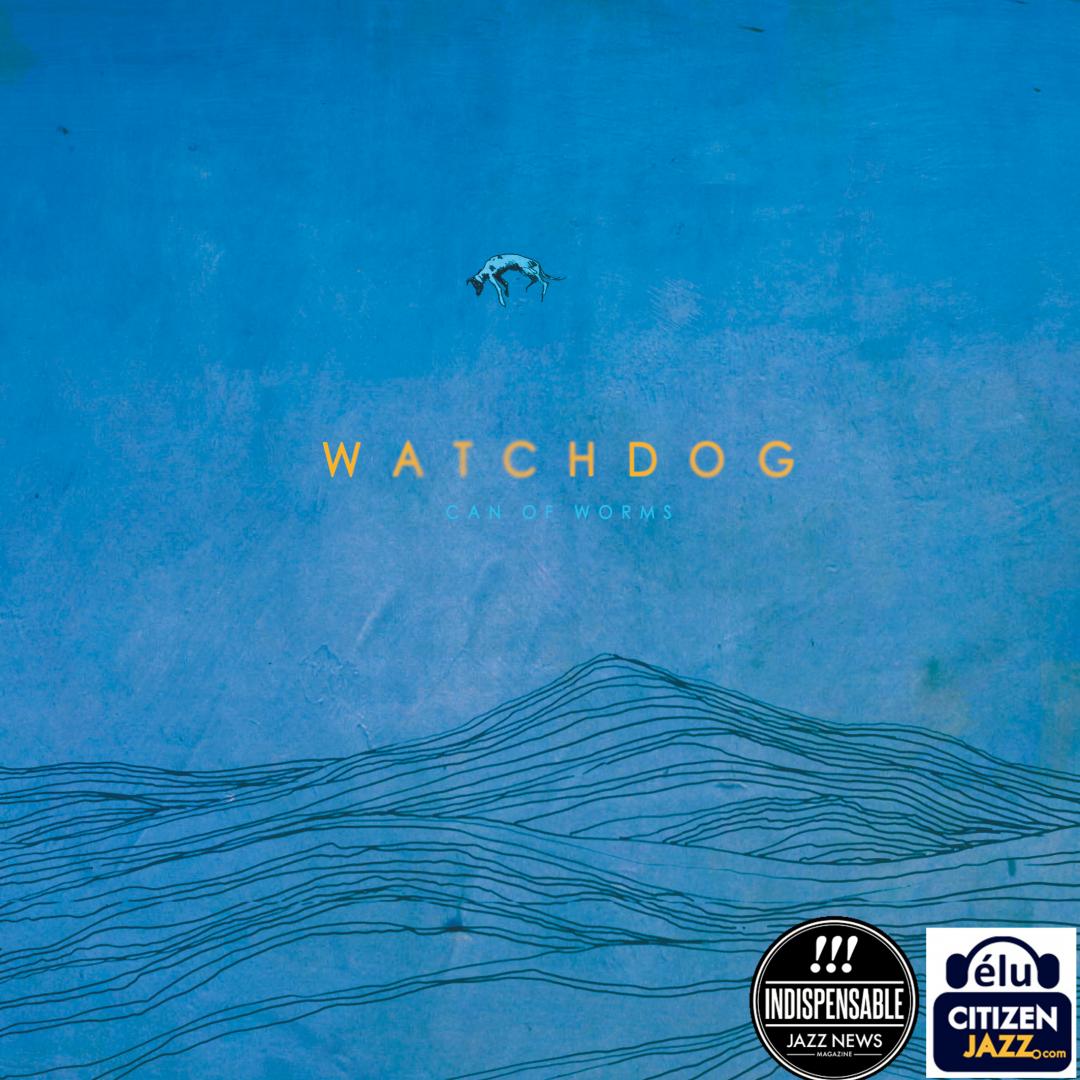 Anne Quillier : Fender Rhodes, Analog Synthesizer
Pierre Horckmans : Bb, alto and bass clarinets, effects
Adrian' Bourget : Sound-engineer

WATCHDOG - Les animaux qui n'existent pas
Published 11/30/2019
WATCHDOG se prépare pour enregistrer son 3ème album en février pour une sortie prévue pour l'automne 2020 ! Le groupe enregistrera son nouveau spectacle LES ANIMAUX QUI N'EXISTENT PAS que vous pouvez découvrir ici
« Meubles Cages":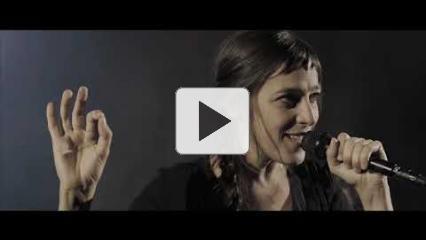 "il y a longtemps que nous marchons":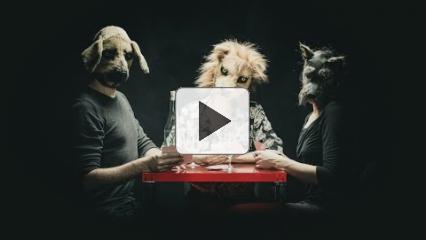 et en vrai le le 17 janvier 2020 à l'Opéra de Lyon !

---
Les nouvelles histoires de WATCHDOG !
Published 09/04/2019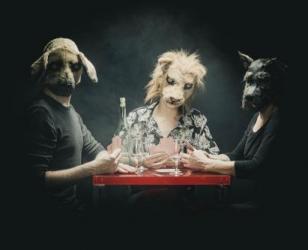 Bonjour!
Ça y est c'est la rentrée!
Pendant les vacances WATCHDOG a créé un nouveau spectacle avec la
comédienne Maud CHAPOUTIER, ce spectacle s'appelle
LES ANIMAUX QUI N'EXISTENT PAS
et sera en residence du 17 au 20 septembre prochain à l'Opéra de Lyon pour te fabriquer des petites vidéos pour que tu puisses
patienter avec la 1ère officielle au même endroit le 17 janvier 2020, dix sept JANVIER deux mille vingt!
En vrai on peut aussi te faire écouter un extrait ici si tu ne le répètes pas: Les Hommes Bou
et on a quand même quelques dates secrêtes avant janvier que tu découvriras si tu vas au bout de cette petite lettre de rentrée.





---
Et puis cet été est né le DUO de DUOs - PYTHIES / WATCHDOG :
L'idée est de réunir leurs deux univers, dans un format de concert intimiste et immersif afin de pouvoir le donner en représentation dans des lieux insolites et pas forcément destinés à la diffusion musicale.
Voulant s'éloigner des étiquettes "chanson" et "jazz" souvent étriquées, l'idée de tourner en autonomie et dans des lieux peu conventionnels s'est imposée dans la volonté de toucher un public nouveau et
sortir des codes de ces musiques.
Les duos se rejoignent aussi pour jouer à 4, le tout est sonorisé par Tomas MANCINI à l'origine de cette rencontre et de cette idée.
Début de la tournée la semaine prochaine!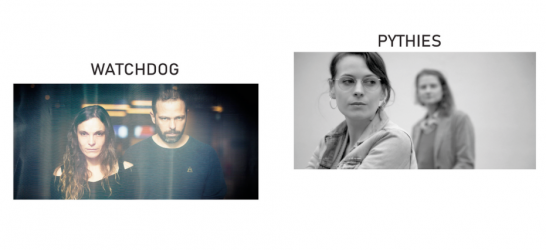 WATCHDOG + PYTHIES
10 septembre 2019 - Auberge de la Tour (Saint Pierre-d'Argençon (05) )
11 septembre 2019 - Rabou (Rabou)
12 septembre 2019 - Mens - Concert Chez l'Habitant (Mens)

WATCHDOG
14 septembre 2019 - Jazz à Oricourt (Oricourt)

WATCHDOG - Les animaux qui n'existent pas
18 octobre 2019 - le Séchoir (Saint Leu)
19 octobre 2019 - la Raffinerie - Friche éco-culturelle de Savanna (Saint-Paul)
24 octobre 2019 - le Caveau Rontaunay (Saint-Denis (la Réunion))
20 novembre 2019 - le Colibri (Saint Germain l'Herm)
21 novembre 2019 - Lieu Secret - Clermont Ferrand (Clermont-Ferrand)
22 novembre 2019 - Sappey en Chartreuse - Concert Chez l'Habitant (Sappey en Chartreuse)
23 novembre 2019 - le Lieu, l'Amer (St André en Royans)
24 novembre 2019 - le Théâtre de France (Saint Christophe D'Allier)

WATCHDOG - Les animaux qui n'existent pas
17 janvier 2020 - Amphiopera (Lyon)

---
WATCHDOG en concerts cet été !
Published 05/06/2018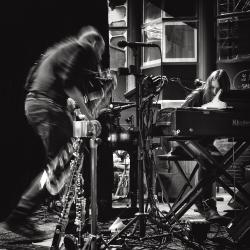 WATCHDOG est dans les coups de coeur de Fara C. dans L'Humanité !
"Ces peintres de l'indicible, adeptes de l'improvisation, engendrent une palette sidérale, sidérante, avec une cohérence jamais prise en défaut… "
Le groupe sera en concert cet été avec des nouvelles compositions!
27 juillet 2018 - Festival L'Abeille Beugle (38)
13 août 2018 - Péristyle de l'Opéra de Lyon
14 août 2018 - Péristyle de l'Opéra de Lyon
15 août 2018 - Péristyle de l'Opéra de Lyon
26 août 2018 - Tout Le Monde Dehors (69)
6 octobre 2018 - Médiathèque de Chassieu
18 janvier 2019 - Jazz en Bièvre
4 mai 2019 - Restaurant Rechberg 1837 (Zürich)
5 mai 2019 - Les rAts d'Arts (71)

Can of Worms est disponible ici: https://labelpinceoreilles.bandcamp.com/album/can-of-worms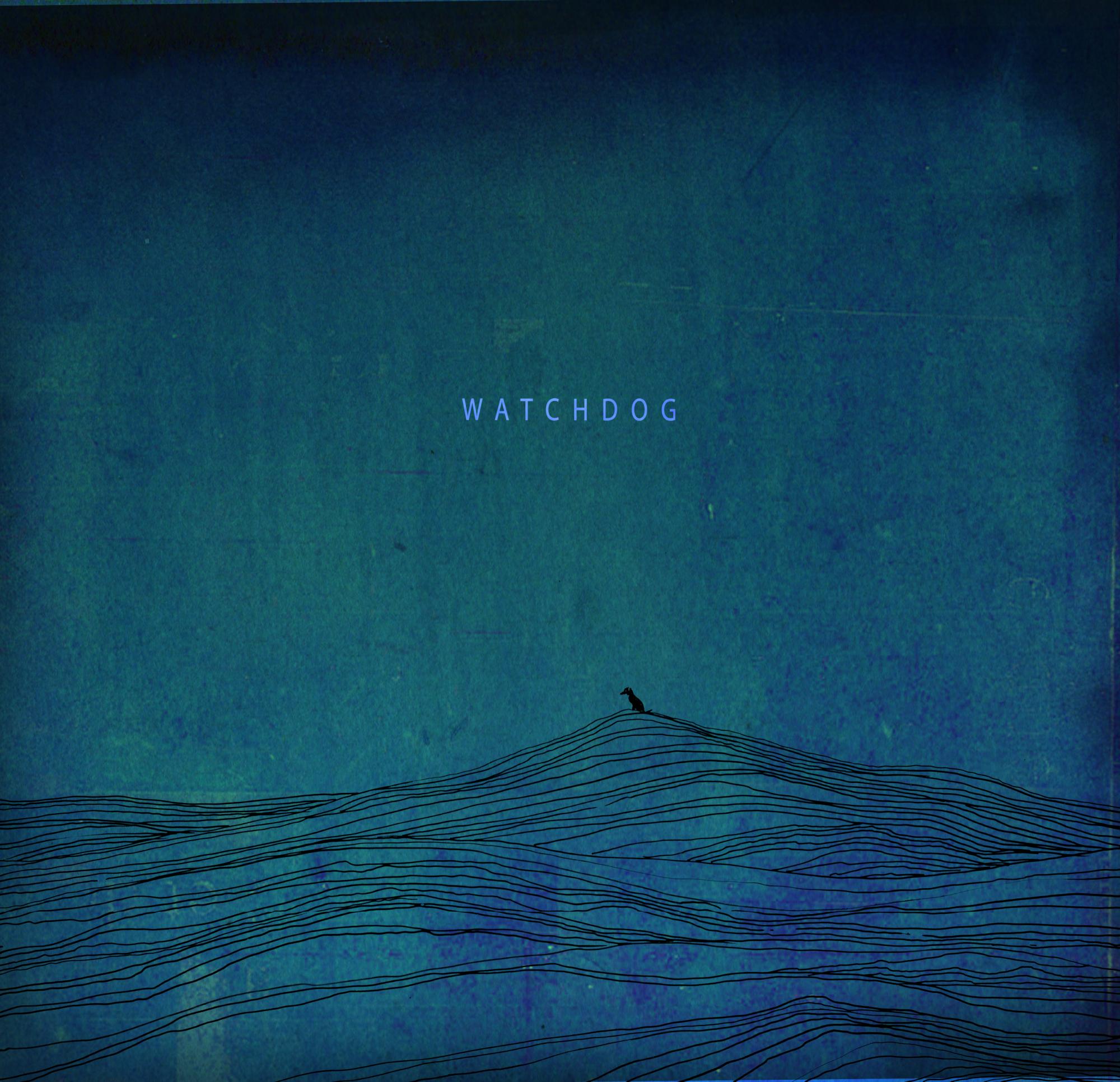 ---
Le nouvel album de WATCHDOG est Élu Citizen Jazz!
Published 12/19/2017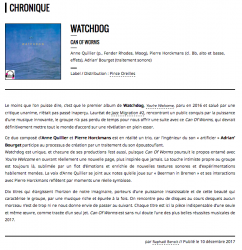 "Can of worms est sans nul doute l'une des plus belles réussites musicales de 2017"
par Raphaël Benoit // Publié le 10 décembre 2017

L'intégralité de l'article est disponible ici : https://www.citizenjazz.com/Watchdog-3475294.html




---
Can of Worms de WATCHDOG dans le Djam!
Published 12/08/2017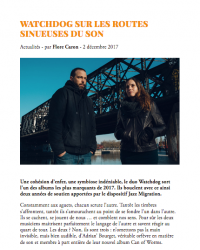 Watchdog - Can of worms
"Une cohésion d'enfer, une symbiose indéniable, le duo Watchdog sort l'un des albums les plus marquants de 2017"
Flore Caron le 02 decembre 2017 - le Djam



---


Citizen Jazz - Südtirol Jazz Festival Altoadige le 2 juillet 2019
Published August 11th 2019


"(...) Watchdog, le duo français de Anne Quillier et Pierre Horckmans a véritablement enflammé le Ca' de Bezzi.
Cette musique toute en rondeurs et en pulsations a fait forte impression auprès des journalistes européen.ne.s présent.e.s à ce festival international. (...)"
Matthieu Jouan
www.citizenjazz.com/Sudtirol-Jazzfestival-Alto-Adige-aime-les-Iberes.html
---


London JAZZNEWS - Südtirol Jazz Festival Altoadige le 2 juillet 2019
Published July 7th 2019


"French duo Watchdog opened with keyboardist Anne Quillier's Minimoog swoops, as Pierre Horckmans' clarinet notes slid alongside in Ashes; the combination of natural instrument timbres with electronic Fender Rhodes sounds was intriguing. Quillier played grand piano with one hand and the Rhodes with the other, layering repeated rhythmic patterns, like some of Michael Wollny's work with Tamar Halperin – but with only one Anne Quillier. Horchmans opened Blind Drunk with percussively tongued bass clarinet, and the primal, deep bubbling notes echoed the Fender Rhodes bass beats. A little overblowing brought a rock intensity to his bluesy solo, while Quillier's gentle vocal lines added another texture. The clarinet drawled bluesily over two chords in 5/8 with impish energy, while Quillier's jazz solo on grand piano twined intricately with the Fender Rhodes chords and simple clarinet lines. Another piece had a folkish melody, skipping across the beat with a little klezmer. Waves pulsed darkly, and clarinet harmonised electronically with itself, the whole rocking to a conclusion. Another used musical box tones and fluttering arpeggios; the next veered between classical and rock vibes, while the bass clarinet solo was full of dark fire. Pile of Scrap's prog jazz feel growled with clarinet overtones. The varied timbres, patterns and solos combined to draw you in and keep you mesmerised."
Alison Bentley
londonjazznews.com/2019/07/07/sudtirol-jazzfestival-2019-part-1/
---


Jazz-rhone-Alpes - Jazz en Bièvre le 18 janvier 2019
Published January 25th 2019


"(...) Les mélanges de sons emportent un public attentif et séduit par cette musique.
(...) Autant d'instants de grâce entre les deux musiciens. Leur musique est étonnante, réconfortante, séduisante...
(...)"
Daniel Peyreplane
www.jazz-rhone-alpes.com/190121-watchdog-a-jazz-en-bievre/
---


l'Humanité - Can of worms
Published March 19th 2018


"Les coups de coeur de Fara C.

These improvisers and painters of unspeakable, generate a striking sideral pallet, with an amazing musical coherence. (...)"
Fara C.
humanite.fr/les-coups-de-coeur-de-fara-c-652243
---


SOUNDIGGER - Can of worms
Published January 11th 2018


"Can of Worms is highly recommended for anyone who finds beauty and creativity in the madness of consciously rushing straight into the wall. And adventurous music. Close to jazz because the compositions are above all instrumental and give the beautiful part to improvisation. Close to pop for nude and singing melodies. And close to rock and punk for a taste of skipping uncensored and progressive. It is a music that explores dark areas, pierces them and leads to calm and full waves. Cape to catharsis. (...)
Watchdog exercises and thus transmits a therapeutic process of music, which far from being a means of externalizing folded on itself, shares a super powerful energy. (...)
The two instrumentalists have developed mutual listening that is beyond comprehension. (...)"
Laurette
soundigger.com/chroniques/watchdog-can-of-worms/
---


QOBUZ - Can of worms
Published Decembre 30th 2017


"Curiosities are like magnets: you can't help but be drawn to them, whether they are dangerous or not. Watchdog is a magnet. On paper, she - Anne Quillier - works with the piano, the Fender Rhodes or the Moog. He, Pierre Horckmans, plays the bass clarinet. Two years after You're Welcome, their double-act is just as intriguing as ever. In fact, it's fascinating on this second work, which unveils simple little melodies that they take underground, into the ethers, and into the sky with the help of Adrian' Bourget, their sound engineer, a real artisan who propels their creations into the realm of the spirit. For Can Of Worms, Watchdog evoke such disruptive influences as John Surman, Nik Bärtsch, Philip Glass and several hundred others, but somehow they are still able to find their own style, their own sound. Our explorers alternate between the naïvety of a gentle tune and the madness of an electric tsunami. A suppleness which renders their project even more unique. Surprising and captivating."
Marc Zisman
www.qobuz.com/fr-fr/info/Actualite/Video-du-jour/Watchdog-l-experience-interieur179784
---


Action Jazz - Can of worms
Published Decembre 21st 2017


"(...) They have taken the time to find themselves, each on the way of touring and sometimes different projects, they enrich themselves with work, meetings, exchanges, and find this good old 'watchdog' which sees them grow in their natural intimacy, strength and elegance, accuracy and presence. Strongly the next!"
Alain Flèche
www.actionjazz.fr/watchdog-2eme-tournee-can-of-worms/
---


Citizenjazz - Can of worms
Published Decembre 10th 2017


"
Can of worms is without any doubt one of the greatest musical success of 2017"
Raphaël Benoit
www.citizenjazz.com/Watchdog-3475294.html
---


le Djam - Can of worms
Published Decembre 2nd 2017


"A magic cohesion, an undeniable symbiosis, the Watchdog duo released one of the most memorable albums of 2017.
(...)"
Flore Caron
www.djamlarevue.com/actualites/2017/12/2/watchdog-sur-les-routes-sinueuses-du-son
---


Jazz News - Can of worms
Published November 28th 2017


"

It is clearly one of the most beautiful disc of the end of the year (...)"
Florent Servia
---


Bird Is The Worm - Can of worms
Published November 27th 2017


"There's a captivating quality to this fun session from the duo Watchdog. Clarinetist Pierre Horckmans and pianist Anne Quillier create a hazy environment where melodies appear warped and wobbly and out of focus. The duo exploits those qualities to amplify the harmonic effects, and this is where the real fun begins. Quillier mixes in some moog and Fender Rhodes, which adds an element of the organic and electronic battling it out within all of that hazy expressionism. Something a little different, to be sure."
Dave Sumner
www.birdistheworm.com/the-round-up-because-the-story-is-never-a-closed-loop/
---


Le Rond Point du Jazz - Can of worms
Published November 27th 2017


"The Watchdog album "Can of Worms", a most intriguing musical UFO released on October 13, 2017!
For their second album, the Watchdog duo brings their musical research and proposes ten original musical pieces. They take the listener into new worlds with strange atmospheres, melodic "Beerman in Beremen", dissonant "Intro", glaucous "Can of Worms", mixing acoustic and electronic sounds.
A must for curious people who like to be surprised and disturbed."
J.C Colletto
www.rondpointdujazz.fr/2017/11/30/l-album-de-watchdog-can-of-worms-un-ovni-musical-des-plus-intrigants-sorti-le-13-octobre-2017-chez-le-label-pince-oreilles/
---


les Dernières Nouvelles du Jazz - Can of worms
Published November 25th 2017


"At the beginning of 2016 the first disc of this duet ( "You're Welcome") had aroused an admiring interest. The interest (and the admiration) are confirmed with this new opus (...)"
Xavier Prevost
lesdnj.over-blog.com/2017/11/watchdog-can-of-worms.html
---


Action Jazz - Can of worms
Published November 6th 2017


"Anne Quillier is in Action Jazz Magazine : http://fr.calameo.com/read/00289603908fe76fb9f12"
Annie Roubert
fr.calameo.com/read/00289603908fe76fb9f12
---


Culture Jazz - Can of worms
Published November 5th 2017


"Vigilance is a necessity and WatchDog ensures that our society does not hinder the freedom to create, to imagine today's music so that tomorrow is more open, brighter. (...) Do not miss them and, in any case, do not miss this album: it deserves your listening and your support!"
Thierry Giard
www.culturejazz.fr/spip.php?article3213
---


Les Inrockuptibles - Can of worms
Published October 13th 2017


"This album creates right ahead a state of dreaming, not like a boring afternoon, but the one with bubbling blood in your veines. Running emotions disorientated till they explode full of passion. Never to miss!"
Louis-Julien Nicolaou
www.lesinrocks.com/2017/10/13/musique/10-nouveautes-jazz-ecouter-durgence-11994637/
---


Jazz Magazine - Can of worms
Published October 1st 2017


"Watchdog cultivates a wide search for nuances, textures and timbres through this admirable and judicious "mixture of strident electricity and the softness of acoustic vibration". Thus, one easily passes electric and saturated pieces to the complete sketch, without any effect. It's addictive and exciting."
Katia Touré
www.jazzmagazine.com/
---


Jazz in Clap'Coop - Jazz a Junas le 20 juillet 2017
Published August 3rd 2017


"Interview du groupe WATCHDOG par JP Gambier le 20 juillet 2017 au festival Jazz à Junas.
Pour le webzine [www.clap.coop] et le magazine mensuel radio [Caravan] :
https://www.mixcloud.com/jp-gambier/interview-de-watchdog-%C3%A0-junas/"
Jean Paul Gambier
www.clap.coop/
---


Jazz Rhône Alpes - Crest Jazz Vocal le 1 août 2017
Published August 2nd 2017


" Watchdog is a fusion duo that ignores musical conventions, appropriates sounds to make notes and gently mocks uses to keep only the ardor of a jazz electrified and electrifying.
We note at the outset the complicity between Anne Quiller (Fender Rhodes, Piano and Moog) and Pierre Horckmans (bass clarinet, viola and Bb). Their universe is both dark and intriguing, strung together like a good thriller whose soundtrack gives rhythm and argument and shapes complex characters."
Claire Jalmain
www.jazz-rhone-alpes.com/
---


Jazz Rhône Alpes - Jazz à Vienne le 4 juillet 2017
Published July 10th 2017


"It is an impression of power that develops Watchdog, from the first notes, a power that is not due to the sound volume, but the quality of the musical construction and melodic and rhythmic assemblages. It is a music that invents constantly while keeping the line of a strong and contrasted, perfectly readable between the lines. It is a question of highlighting the anxieties and the interrogations of the current times, it is necessary to catch them and to transmit them, without overbidding sensationalist, a huge dose of sensitivity, a lot of humility and a fundamental honesty. All qualities that Pierre Horckmans and Anne Quillier seem undoubtedly to possess.
The musicians could play with their eyes closed as the osmosis is perfect. Strong emotions throughout the set for levitating listeners."
Michel Mathais
www.jazz-rhone-alpes.com/
---

Le Dauphiné - la Nuit de Tous les Jazz(s) le 27 mai 2017
Published May 29th 2017


"A universe without concessions, with rich complexity, which opens doors and upsets habits, sometimes evoking a mutant Soft Machine, integrating effects loops and pedals, repetitive or noisy music, dissonances and saturation, for a sound indisputably personal, far from the laborious 'revisitations'."
Jean Debraine
---


Citizen Jazz - You're welcome
Published May 20th 2017


"Anne Quillier était à la Une de Citizen Jazz à l'occasion de la sortie du 2ème album de son 6tet: DUSTY SHELTERS
Vous pouvez retrouver ici une interview réalisée en novembre :
http://www.citizenjazz.com/Anne-Quillier-3474252.html"
Raphaël Benoit
www.citizenjazz.com/Anne-Quillier-3474252.html
---


Citizen jazz - You're welcome
Published May 14th 2017


"Anne Quiller est de ces artistes qui multiplient les collaborations et les projets. La pianiste officie dans Blast, Watchdog, Asylon Terra, Saint Sadrill, No Mad ?, et bien entendu dans le Anne Quillier sextet. C'est cette formation qui sort son deuxième album en ce début d'année déjà bien rempli. L'occasion de discuter de ce disque, des autres projets, du Collectif Pince-Oreilles,
et de ce qu'implique être musicien professionnel dans un monde en pleine mutation, à la recherche de solutions alternatives."


...
Les projets pour 2017 ?
"Oui, plusieurs choses sont à venir ! Watchdog enregistre en juillet, Blast en septembre, et Romain Barret en février avec son trio et deux invités, Florent Brique et Eric Prost. Le Gregory Sallet Quintet a enregistré en novembre, l'album doit sortir en avril."

Tout l'article ici : https://www.citizenjazz.com/Anne-Quillier-3474252.html

par Raphaël Benoit // Publié le 14 mai 2017"
www.citizenjazz.com
www.citizenjazz.com/Anne-Quillier-3474252.html
---


Ô JAZZ! - Jazz Or Jazz le 22 avril 2017
Published May 1st 2017


"À 18 h 30, Watchdog, le quatrième groupe bénéficiant du dispositif Jazz Migration, a investi la salle Vitez. Des sons très électriques ou électroniques, ils le revendiquent, mais pas seulement. Le vrai watchdog, la sentinelle, ce sont les deux musiciens, Anne Quillier au piano et au Moog, et Pierre Horckmans aux clarinettes. Paradoxe qui fait tout l'intérêt, toute la beauté de cette musique. La touche sur les claviers, la voix, le souffle dans les clarinettes apportent un lyrisme tout à fait émouvant. Les machines donnent de la profondeur à ces mélodies bien construites, une consistance, une épaisseur qui fait le son du duo. Une magnifique expérience évocatrice d'images, une musique au fond très savante dans un enrobage qui paraît très simple. Longue vie à Watchdog."
Patrice Delatouche
www.ojazz.fr/blog/?p=21625
---


The Jazz Breakfast - la Dynamo le 29 novembre 2016
Published Decembre 5th 2016


"This is a a clarinet + piano/keyboards duo which takes its name from increasing use of electronic devices for purposes of surveillance. Appropriately Anne Quiller played just keyboards at the showcase in contrast to the CD where she plays piano on two of the tracks. I found the interaction between Anne on keys and Pierre Horckmans on clarinets, including the regular clarinet, the bass clarinet and the lovely sounding alto clarinet, very integrated and generative of some very interesting and attractive textures. This was for me the most successful of the four bands. They were nominated by the Periscope Club in Lyon run by Pierre Dugelay of which I have written in the past; they are also members of the Pince Oreilles collective based in the Lyon area."
Tony Dudley-Evans
thejazzbreakfast.com/2016/12/05/jazz-migration/
---


Jazz Rhônes Alpes - la Cordonnerie le 1 decembre 2016
Published Decembre 5th 2016


"The sound work and effects (not too strong) give the musical choices of the duo an originality that immediately seizes the listeners and then gradually embark on the intricacies of an inventive music and beautiful because current! The torments of our contemporary world are diverted (and this is the class of this duet) in the service of a sound poetry that must be grasped and accepted. Watchdog, Three Monkeys, Last Dreamers are the emblematic titles of their latest album (revelation Jazz Magazine and elected Citizen Jazz) taken here in concert. Do not shut up on ourselves, listen to the sounds of the world and do not be afraid to tell us this dog that looks at us! Listen and schedule urgently!"
Jean Louis Rossi et photos Michel Blecic
www.jazz-rhone-alpes.com/
---


Jazz News - la Dynamo le 29 novembre 2016
Published November 29th 2016


"With a sometimes grunge sound, Anne Quillier and Pierre Horckmans display explosives complicity and art of the interplay.
As if John Surman and Nik Bärtsch where playing Radiohead!"
Mathieu Durand
www.jazz-news.com/
---


Déclectic Jazz -
Published June 23rd 2016


"WATCHDOG était sur Déclectic jazz pour la présentation de Jazz à Vienne.
(de 1h05' à 1h09'45'')
http://soundcloud.com/declicradio/declectic-jazz-23-juin-2016-jazz-a-vienne-2"
Nocolas Pommaret
soundcloud.com/declicradio/declectic-jazz-23-juin-2016-jazz-a-vienne-2
---


Citizen Jazz - You're welcome
Published April 24th 2016


"ELECTED CITIZEN JAZZ
Continuing its excellent tradition, Daybreak by the Anne Quillier sextet and Madness Is The Emergency Exit by the Blast trio , both paid tribute to, in our reviews, the keyboard player is back in a duo with Pierre Horckmans (who is also a member of the Sextet and Blast), for this first album entitled Watchdog. It is the opportunity to continue exploring their unique ever-magnificent world, backed by a rare writing talent.
The sensation of extreme skill and control is present when listening to both of the above mentioned recordings, which, as ever, never detracts from, or limits the liberty and expression. Likewise, the brevity of the album itself, as well as the pieces intensifies the impact of the music.
The precision and rhythmic complexity which were one of the trademarks of both the Sextet and of Blast still work their magic here, confirming what one had already felt. Anne Quillier and Pierre Horckmans are the beating heart of these three groups.Their harmony is remarkable from every angle.
Quillier and Horckmans share the compositions but as a whole the album is very consistent. Both have a talent for writing melodies that take your memory by storm while offering sophisticated music which is rhythmically rich, reinforced by the magnificent tone of the piano and clarinets. Fender and Moog provide the wild, raw, industrial aspect which enriches the palette of tone. Whatchdog's music is meant to represent our contemporary society. It is above all, exciting and addictive, reflecting the multifaceted universe of these two artists."
Julien Gros-Burdet
www.citizenjazz.com/Watchdog.html
---


JAZZ MAGAZINE - You're welcome
Published April 18th 2016


"REVELATION JAZZ MAGAZINE
Its structure is original as is the duo made up of Anne Quillier and Pierre Horckmans , especially in its approach.
The six short pieces in this first album are astonishing in their variety of tone which ranges from sombre to light, multiplying the sound textures and rhythmic patterns and cleverly combining written music with improvisation.
The element of surprise is both refreshing and captivating."
Félix Marciano
www.jazzmagazine.com
---


CULTURE JAZZ - You're welcome
Published March 1st 2016


"« You're welcome » is the disc' title, which well defines this brilliant and creative music, catching with accuracy the anxiety of our times as well as its rised up questions."
Thierry Giard et Yves Dorison
www.culturejazz.fr/spip.php?article2877#70
---


The curious clarinet : Watchdog en concert - Le Cassiton Auberge de Rosset le 25 février 2016
Published February 26th 2016


"(...) Les deux musiciens jouent avec brio des différentes combinaisons possibles de leurs instruments. Pierre y ajoute quelques effets toujours bien choisis qui viennent enrichir une palette sonore déjà très large, du velouté au grinçant, du diaphane au lyrique. Anne installe des ambiances avec un sens aigu du rythme et nous enchante avec toute la variété des sons extraordinaires de ses claviers, quand elle ne se lance pas dans une improvisation volubile. La clarinette si bémol est souvent tendre dans le médium-grave, mais sait aussi se faire plus virtuose dans les moments improvisés.
La clarinette basse tour à tour chante dans son registre suraigu aux couleurs particulières, devient percussive en slap ou grogne dans un extrême grave démultiplié par un octaver et qui se fond dans les basses du Moog.
D'un morceau à l'autre, les ambiances changent mais le groupe a une pâte sonore qui lui est propre et qui crée un lien fort entre toutes les compositions.(...)"
Guillaume Jouis
www.guillaume-jouis.com/concert-watchdog-cassiton-jura/
---


Histoires errantes : Watchdog - You're welcome
Published February 25th 2016


"For a two-people band, the register of tones, sounds, opposite or nested vibrations is incredibly miscellaneous, and each listening reveals a new discovery."
Sébastien Blondel
corroyeurerrant.wordpress.com/2016/02/25/watchdog-youre-welcome/
---

Les Dernières Nouvelles Du Jazz : Watchdog - You're welcome
Published February 21st 2016


"From the begining, the appeal obtrudes and does not weaken. Pieces are brief, style is mastered, musical choices are ambitious, yet music radiates a joyful freedom..."
Xavier Prévost
www.lesdnj.com/2016/02/watchdog-you-re-welcome.html
---


The curious clarinet : Watchdog - You're welcome
Published February 19th 2016


"(...) One will appreciate the originality of the formation and the various sound possibilities which it offers, that is to serve as the very pleasant melody lines, sometimes stargazers, sometimes put rhythm into, or to create musical atmosphere more distressing, with the image of the complexity of our current world. (...)
Watchdog is thus a duet to be followed, in particular for in love ones with the clarinet in all its forms. (...)"
Guillaume Jouis
www.guillaume-jouis.com/watchdog-youre-welcome-album-jazz/
---
Prochains concerts
Thursday, June 11th 2020 at 2:00pm
Lieu : Hôpital de l'Arbresle CONCERT ANNULÉ
Ville : l'Arbresle
Participation : n.c.
www.hopitalarbresle.com/

206, Chemin du Ravatel
69210 l'Arbresle
France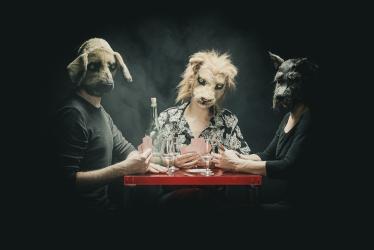 ---
Saturday, June 13th 2020 at 8:30pm
Lieu : les Délices Perchés CONCERT ANNULÉ
Ville : Notre-Dame-de-Mésage
Participation : n.c.
delicesperches.fr/

Festival les Délices Perchés
38220 Notre-Dame-de-Mésage
France






---
Wednesday, August 26th 2020 at 8:30pm
Lieu : Jazz à Barraux
Ville : Barraux
Participation : 12€ / 10€ (tarif réd
www.jazzabarraux.fr/

Fort Barraux
38530 Barraux
France






---
Friday, September 11th 2020 at 8:30pm
Lieu : L'Enfer Festival
Ville : Nancy
Participation : n.c.
lenferfestival.blogspot.com/

14 rue du Cheval Blanc
54000 Nancy
France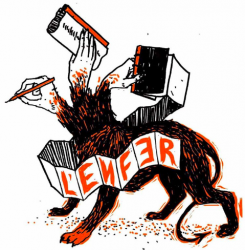 ---
Saturday, October 17th 2020 at 8:00pm
Lieu : la Baie des Singes
Ville : Cournon
Participation : n.c.
www.baiedessinges.com

6 av. de la République
63800 Cournon
France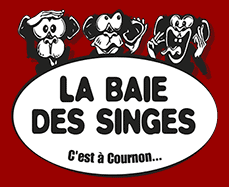 ---
Friday, Decembre 11th 2020 at 8:30pm
Lieu : L'Echandole
Ville : Yverdon-les-Bains
Participation : n.c.
www.echandole.ch/contact/

Rue du Casino 9,
Case postale 1331
1401 Yverdon-les-Bains
SUISSE






---
Saturday, June 26th 2021 at 8:30pm
Lieu : la Fraternelle
Ville : St Claude
Participation : 10 - 8 - 5 €
www.maisondupeuple.fr

12 rue La Poyat
39200 St Claude
France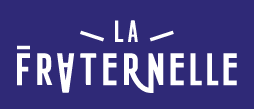 ---
C'est du passé
30/05/2020
Jazz à Barraux CONCERT ANNULÉ
Barraux

18/05/2020
la Source CONCERT ANNULÉ
Fontaine

4/04/2020
Voiron Jazz Festival CONCERT ANNULÉ
Tullins

2/04/2020
Voiron Jazz Festival - Concert Scolaire CONCERT ANNULÉ
Voiron

31/03/2020
Voiron Jazz Festival - Concert Scolaire CONCERT ANNULÉ
Saint-Nicolas-de-Macherin

31/03/2020
Voiron Jazz Festival - Concert Scolaire CONCERT ANNULÉ
Saint Geoire en Valdaine

27/03/2020
Opus Jazz Club Budapest CONCERT ANNULÉ
Budapest

20/03/2020
Voiron Jazz Festival - Concert Scolaire CONCERT ANNULÉ
Voiron

20/03/2020
Voiron Jazz Festival - Concert Scolaire CONCERT ANNULÉ
Saint-Blaise-du-Buis

19/03/2020
Voiron Jazz Festival - Concert Scolaire CONCERT ANNULÉ
Moirans

19/03/2020
Voiron Jazz Festival - Concert Scolaire CONCERT ANNULÉ
Vourey

16/03/2020
Voiron Jazz Festival - Concert Scolaire CONCERT ANNULÉ
Voreppe

16/03/2020
Voiron Jazz Festival - Concert Scolaire CONCERT ANNULÉ
Saint-Bueil

13/03/2020
l'Echandole CONCERT ANNULÉ
Yverdon-les-Bains

10/03/2020
Hare and Hounds
Birmingham

1/02/2020
du Bleu en Hiver
Tulle

27/12/2019
Goasven
Logonna-Daoulas

24/11/2019
le Théâtre de France
Saint Christophe d'Allier

23/11/2019
le Lieu, l'Amer
St André en Royans

22/11/2019
Saint-Jean-des-Ollières
Saint-Jean-des-Ollières

21/11/2019
Lieu Secret - Clermont Ferrand
Clermont-Ferrand

20/11/2019
le Colibri
Saint Germain l'Herm

24/10/2019
le Caveau Rontaunay
Saint-Denis (la Réunion)

19/10/2019
la Raffinerie - Friche éco-culturelle de Savanna
Saint-Paul

18/10/2019
le Séchoir
Saint Leu

14/09/2019
Jazz à Oricourt
Oricourt

12/09/2019
Mens - Concert Chez l'Habitant
Mens

10/09/2019
Auberge de la Tour
Saint Pierre-d'Argençon (05)

2/07/2019
Südtirol Jazz Festival Altoadige
Bolzano

24/06/2019
la Bohème 4a
Vinsobres

15/06/2019
à Travers Champs
Clarques

13/06/2019
église Saint Léger
Arronnes

21/05/2019
Les Siestes du Verney
Chambéry

11/05/2019
Auberge de Presles
Presles

5/05/2019
les Rats d'Arts
Jambles

4/05/2019
Restaurant Rechberg 1837
Zürich

3/05/2019
Espace Noir
St-Imier

2/05/2019
Petit Théâtre du Bât de l'âne
Saint-Jean-de-Trézy

20/04/2019
le Terminus
Sarreguemines

18/04/2019
Noch Besser Leben
Leipzig

14/03/2019
à Vaulx Jazz
Vaulx en Velin

19/01/2019
la Petite Halle
Paris

18/01/2019
Jazz en Bièvre
Montseveroux

15/12/2018
le Caveau du Chien à 3 Pattes
Belleville

6/10/2018
Médiathèque-Ludothèque de Chassieu
Chassieu

20/09/2018
Girasound Festival
Ullastret, Gérone, Espagne

26/07/2018
Festivel l'Abeille Beugle
Saint Julien en Beauchênes

27/04/2018
le Terminus
Sarreguemines

23/03/2018
la Petite Halle
Paris

17/03/2018
la Gare (Association A.V.E.C.)
Maubec

15/01/2018
Movimiento Cultural Jazz a la Calle
Soriano

12/01/2018
la Faïencerie
la Tronche

4/12/2017
le Comedy Club
Paris

20/10/2017
Jazz au Théâtre Denis
Porquerolles

14/10/2017
Nancy Jazz Pulsations / Salle Poirel
Nancy

22/09/2017
Auditorium Parco Della Musica
Roma

1/08/2017
Crest Jazz Vocal
Crest

4/07/2017
Jazz à Vienne
Vienne

16/06/2017
Jazzpote
Longlaville

27/05/2017
la Nuit de Tous les Jazz(s)
Portes les Valence

20/05/2017
le Petit Faucheux
Tours

7/05/2017
la Casa de Mùsica
Porto

5/05/2017
l' Arrosoir
Chalon sur Saône

29/04/2017
Institut Français Bremen
Bremen

22/04/2017
Jazz Or Jazz
Orléans

25/03/2017
la Fraternelle - Maison du Peuple - Saint Claude
St Claude

14/03/2017
A Vaulx Jazz
Vaulx en Velin

9/03/2017
les Trinitaires / Metz en Scènes
Metz

3/12/2016
Bibliothèque de la Part Dieu
Lyon

1/12/2016
la Cordonnerie
Romans Cedex

10/09/2016
JAZZ AU SOMMET
Bourg Argental

8/07/2016
le Wine Note
Strasbourg

7/07/2016
Jazz à Vienne
VIenne

18/06/2016
Tropisme(s) sous les Volcans
Chanonat

11/06/2016
Toï Toï
Villeurbanne

27/04/2016
Siman Jazz Club
BORDEAUX

26/04/2016
La Damocha
Clermont-Ferrand

10/04/2016
Fleurs de Vie Fleurs de Jazz
Toulouse

25/02/2016
Le Cassiton Auberge de Rosset
Longchaumois

17/02/2016
l'U-Percut
Marseille

5/02/2016
Le Troquet de Marette
Châteaudouble

29/01/2016
L'Entre 2 Café
La Chaux-de-Fonds (NE

10/12/2015
Chapelier Toqué
Clermont-Ferrand

19/09/2015
Auberge de Presles
Presles

21/06/2015
Fête de la Musique
Lyon

30/05/2015
Théâtre de France
SAINT CHRISTOPHE D'ALLIER

25/04/2015
Second Souffle
Lyon

21/04/2015
Second Souffle
Lyon

13/06/2014
Le second souffle
Lyon

12/06/2014
Le second souffle
Lyon

16/05/2014
Festival de duos
Mussy sur Seine

12/04/2014
Voiron Jazz Festival
La Buisse

27/09/2013
La tournée des Bauges / Kap n'doo productions
La Motte-en-Bauges

30/05/2013
Le Jaboulay / Festival du 6° continent
Lyon

30/04/2013
Hot club de Lyon
Lyon

27/04/2013
La roche Corbière
Arcon